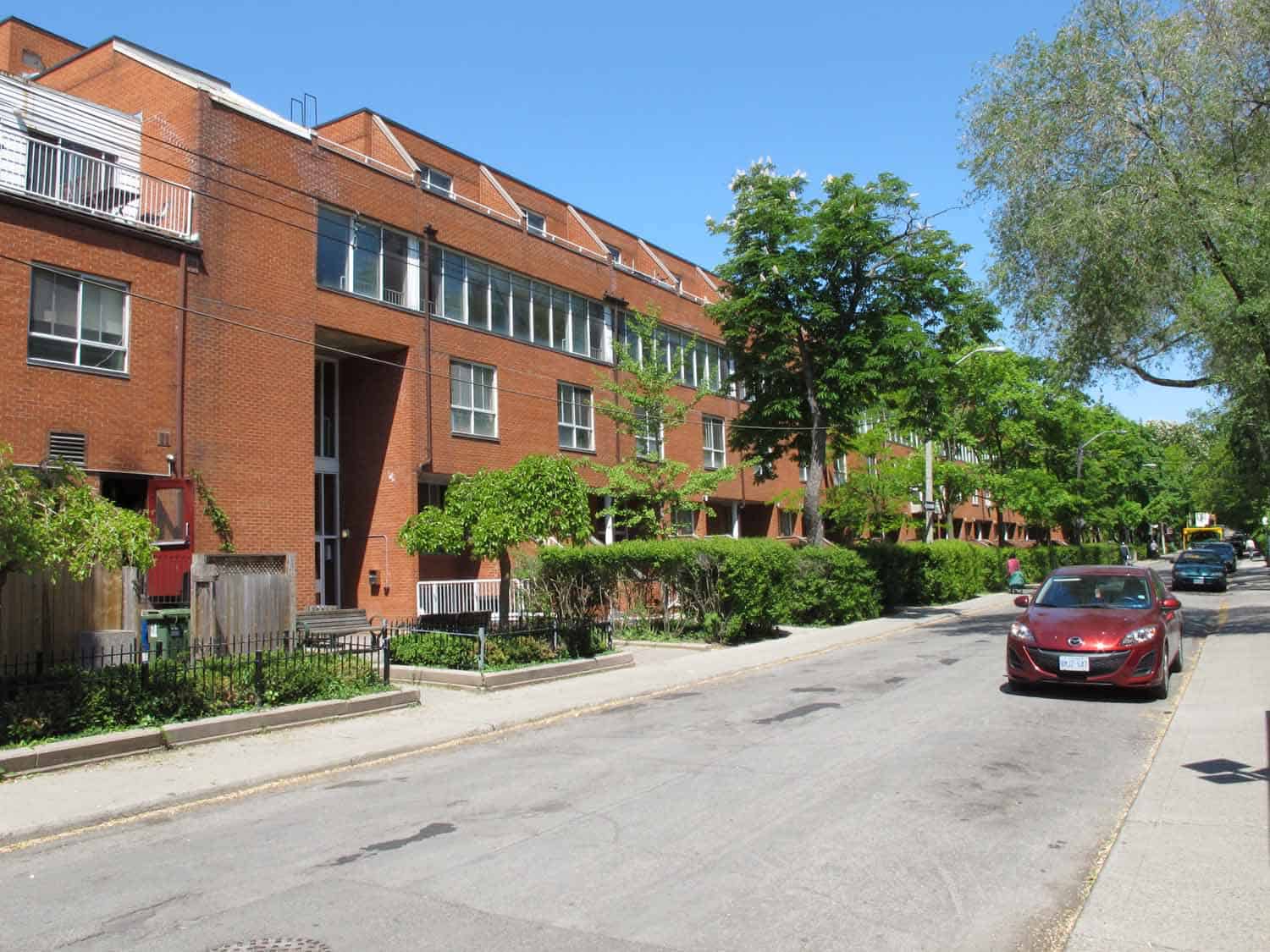 REGISTER ENTRY
Hydro Block
ADDRESS 6 Henry Street, Toronto, ON., Canada
CONSTRUCTED 1972-1978
DESIGNATION Several of the existing Victorian houses along Beverly Street are designated under the Ontario Heritage Act
visual documentation
DEPICTED ITEM
Hydro Block | Photograph, Chris Warden(source) | May 20, 2012 (date accessed)
more visuals
1 identity of building, group of buildings, urban scheme, or landscape/garden
2 history of building
Original Brief/Purpose
To design an infill structure in a block of existing residential structures (some of which were in very poor condition and had to be demolished) in order to provide low to moderate income housing units and to reaffirm the residential character of the neighborhood.
Engineer(s)
Cox Engineering (electrical)
,
John Maryan & Partners (structural)
,
Kapple Wright and Macleod Ltd. (mechanical)
Contractor(s)
McNamara Engineering Limited
current use
Low to moderate income housing units
3 description
general description
The Hydro Block project contains a total of 152 units combined in renovated houses and new construction, as well as an underground garage containing 54 parking spaces, and includes 7,300 square feet of commercial space and community facilities, all on 2.18 acres. Along Beverley Street, a four-lane arterial road, a line of generous two and three storey brick Victorian structures have been renovated to provide 39 units, most of them large enough (ie. 5-6 bedrooms) to accommodate larger families, extended families, or those who wish to have extra space to rent to students or others to supplement their incomes. Approximately half of the western portion of the site is landscaped open space.
Along Henry Street, a narrow local road lined with nineteenth century, two-storey frame brick row houses, the original buildings were considered beyond repair. Along with three buildings on Baldwin Street, they were demolished to make way for a new five-storey apartment block. This new building contains 113 units, approximately three-quarters of them bachelors and one bedroom units. There are two-storey two and three bedroom family units at grade with private rear yards, while upper levels contain the smaller apartments.
Seven units in the new building were specifically designed for handicapped persons, in accordance with the province's building code. Every unit on the first 3 levels has a private entrance and address on the street. The units on the upper floors are reached by elevator and a glass enclosed, one-sided corridor. These units were specifically designed to allow elderly tenants to sit on their porches and watch the street activities below.
Along Baldwin Street, the local commercial character is reinforced with retail space at grade and apartments above. Of significance are the number of grade related units, and the low rise form of the building, notwithstanding its low rise form. The density is at a floor area ratio of 2, or about 80 units per acre.
4 evaluation
technical
-Doors and windows are standard stock components with additional insulation for eleclric heating
-Construction methods are standard cavity wall construction
-Every effort made to keep building costs to a minimum due to the constraints of financing for subsidized housing.
social
-Represents a solution to the delicate problem of new small scale residential development within an existing low income inner-city neighborhood without destruction of tight-knit physical fabric or of close and interdependent social relationships
cultural & aesthetic
-Uncompromisingly modern in design and manner, yet blends in naturally with the existing context
-The massing and arrangement of the units in close proximity satisfied the density requirements of the client
-It also provided a satisfying scale and street address, comparable to the nature of the surrounding housing stock
historical
-Success of the project provided strong evidence locally and internationally that low-rise infill development was a viable option to the then-common high-rise projects, many of which were stopped and/or redesigned in the face of this work
- Also provided evidence that retaining and working w~h the urban fabric was more sensitive alternative to "blockbusting" or urban renewal methods
-In light of this and other related projects, the attitude and form of the city began to change for the better in the eyes of many of its citizens
general assessment
-As an urban form, the Hydro Block structure takes precedent from London terrace housing, both in physical form and residential character
-It has proven itself as a successful and desirable building type for Toronto, and has been emulated in subsequent projects in the city (unfortunately, usually geared towards a higher income buyer and laden with stock "classical" details).
5 documentation
principal references
written records, correspondence, etc
-In care of DSAI Diamond and Schmidt Architects Inc
drawings, photographs, etc
-As above
other sources, film, video, etc
-As above
principal publications (chronological order) 
periodicals
-"A Hybrid Rival to High-Rise has Character", Globe and Mail, 15 March 1978
-"Hydro Block", Toronto Star, 18 March 1978
-"In Downtown Toronto", Domus , September 1979
-"Hydro Block In Toronto", Baumeister, May 1980
-"Hydro Block", Architecture + Urbanism, November 1980
rapporteur/date
Paul McGuigan
Nearby